Worship
In addition to attending Sunday morning worship, check out worship gatherings at special times during the Christian year and ways you can help with worship.

Sundays
We gather weekly for worship in both English and Spanish. Worship typically lasts about about an hour and 10 minutes. For more detailed information, check out the What To Expect page.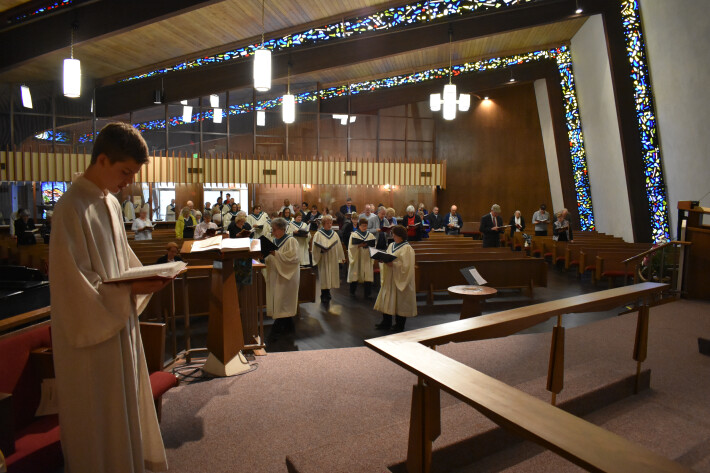 8:30 a.m.
Classic Worship
(English)
Classic Worship observes the ancient rituals and traditions of Christian worship in a modern context.
This gathering tends to be more formal with a choir processional, altar boys and girls, and with those assisting with worship, including our ministers, wearing robes to signify their service to God.
During this gathering, traditional hymns and chants many be sung, and special music may be performed by our choir. Communion is observed on the first and third Sundays of each month.
10:00 a.m.
Celebration Worship
(English)
Celebration Worship is an inter-generational gathering which follows the traditional pattern of Christian worship but tends to be less formal and more on the casual side.
We sing hymns, spirituals, folk and contemporary worship songs accompanied on keyboard, piano or pipe organ (currently, there is no choir or band for this gathering).
Sunday School is offered during this worship gathering, and a special Children's Message is also featured. Communion is observed every Sunday.
Occasionally, this gathering is bilingual (English and Spanish).
11:30 a.m.
Servicio en Español
(Spanish)
Worship in Spanish follows a traditional, yet casual order of worship with the singing of hymns, folk and contemporary worship songs accompanied by a worship band.
Once a month, a traditional liturgy is sung accompanied by pipe organ or piano. Communion is observed every Sunday.
For more information on Spanish Ministries, click here.