Reformation 500
On October 31st, 1517, the Rev. Dr. Martin Luther nailed his "95 Theses" to the door of the Castle Church in what is now Wittenberg, Germany. What started as an academic debate became a fire that swept Europe... a fire that no bishop, no prince and no soldier could put out.
Christians around the globe celebrated the 500th anniversary of the Reformation in a variety of ways. Most congregations held their own worship gatherings on Sunday, October 29, 2017 while others held combined gatherings with nearby Lutheran congregations.
Many of our fellow ELCA congregations held joint commemoration worship gatherings with other denominations, including our brothers and sisters of the Anglican Communion and even the Roman Catholic Church. Members of the United Methodist, Presbyterian USA, Disciples of Christ, and even some Eastern Orthodox congregations were also a part of the commemoration in various communities.
Some shared communion, some sang hymns, some preached the good news, and others prayed for forgiveness and unity in the faith. But through it all, the understanding came that there is more that unites us than what divides us.
You can read Presiding Bishop Elizabeth Eaton's letter on Reformation 500 here.
The celebration in our region
Southern California and Hawaii
Ecumenical worship gatherings were held in Orange and San Bernadino Counties, as well as in Hawaii. Hymn festivals, organ recitals, choir concerts, German Masses, lectures and discussions were also held throughout Southern California... and there was even a theatrical production or two.
San Diego
Lutheran Churches and others around San Diego gathered for worship. We held a special worship, as we do each year, to commemorate God's mighty acts through His servant, Martin Luther. One of our children's choirs sang, and Pastor Jon preached a special message on 500 years of God's grace and what it means to be a part of the Lutheran movement in Christianity five centuries later. Pastor Nate preached a similar message of grace, truth and justice at the Spanish language gathering. Also... two young men affirmed their baptism and were confirmed in the faith and became members of our congregation.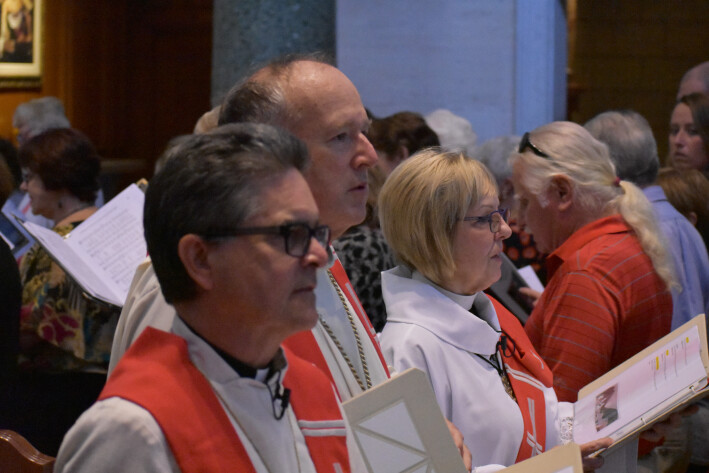 Liturgy of Common Prayer and Music at The Immaculata Catholic Church
Many members of our congregation attended the Joint Lutheran/Anglican/Roman Catholic Commemoration of the Reformation at the Immaculata Catholic Church on the campus of the University of San Diego.
Our Bishop, the Rev. Dr. Andy Taylor, along with Bishop Robert McElroy of the Roman Catholic Diocese of San Diego, and the Rev. Cannon Nancy Holland of the Episcopal Diocese of San Diego presided over the gathering, which featured readings and prayers as well as music from combined choirs and congregational hymns. A reception was held afterwards where people from all three denominations were able to gather and share a time of fellowship.
Reformation 500 in the news
"Today in History" piece on the Reformation from One America News. (October 2017)
Article from The Atlantic on Christian divisions since the Reformation. (October 2017)
Article from The Economist about how the Reformation shaped Germany's moral compass. (October 2017)
Presiding Bishop Elizabeth Eaton featured in a report from National Public Radio (October 2017).
PBS Religion & Ethics story on the Reformation (Feb 2017)
EuroNews coverage of the Joint Commemoration of the Reformation with Bishop Younan (Evangelical Lutheran Church in Jordan and the Holy Land) and Pope Francis in Sweden (Oct 2016)