Christmas
"But the angel said to them, Do not be afraid; for see—I am bringing you good news of great joy for all the people: to you is born this day in the city of David a Savior, who is the Messiah, the Lord."

Luke 2:10-11, NRSV
Join us as we celebrate the coming of the Messiah in word and song.
Monday, Dec. 24th
Candlelight Christmas Eve Worship
We'll have four separate gatherings on this night, all ending with a special time of candlelight, celebrating the birth of Jesus.

4:30 p.m.

children help tell the Christmas story


6:30 p.m.
special music and choir


8:00 p.m.
Servicio de Nochebuena
(Spanish service with Holy Communion)


10:00 p.m.

special music, choir and Holy Communion
Tuesday, Dec. 25th
New This Year!
10:00 a.m.

casual Christmas morning worship with piano and carols
Come Celebrate Jesus
You are welcome here
CHURCH CAMPUS LOCATION
4271 Clairemont Mesa Blvd
San Diego, CA 92117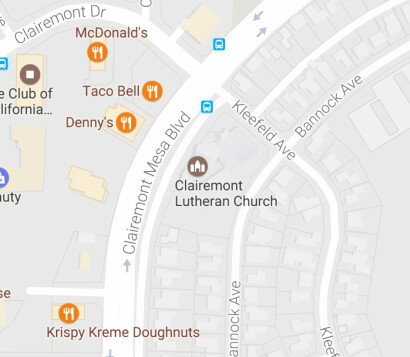 Google Map
Contact the Church Office for more information.